Whether you're thinking of downsizing now that the kids have moved away or looking to make a profit on your first real estate investment in Edmonton, selling a home needs to be done right. This is a significant financial transaction, and it's going to play out differently based on different circumstances, such as if you are still paying your mortgage or in the clear for it. If you want to do it right, make sure to avoid these common mistakes.
Failing To Repair The Home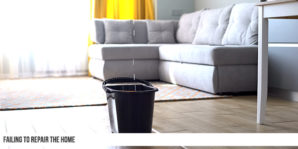 It's not necessarily good business sense to completely renovate your home, as this can eat into your final cost for sale. However, it's essential that you cover the basics and make sure the fundamentals of your home are in good condition.
A roof with holes and missing shingles, broken windows, or, worst of all, a visible crack in your foundation will drive away buyers. Buying damaged property means signing up for additional repair costs beyond what the seller is asking for the home, so many don't want to do it.
Repairing small obvious items before listing your home will avoid making these items an issue ie. A potential buyer might just walk away or ask for a price reduction.
Overpricing Your Home
It's been a good seller's market throughout Canada for many years, but that may be changing. Where once there were bidding wars for a hot property, there may soon be a flood of rentals and flipped houses due to crushed Airbnb ambitions with the fallout from COVID-19. The market may be transitioning more to a buyer's market as more homes go up for sale, but fewer people may be willing to buy right now.
This will necessitate a change in pricing strategy. If you want to sell a home quickly, watch the market, look at the prices homes are selling for, and stay competitive. Don't count on a bidding war to get you 200% of your asking price; the days of depending on one may be over. An experienced real estate agent is key here. They will help you price your property right.
Work With A Lawyer For House Sale
A real estate lawyer is needed to complete your home sale. When you get a lawyer for house sale onboard, you get someone who can safely help you navigate through all the legal and contractual details of a transaction.
The right real estate lawyer ensures that title transfers occur smoothly and on time with little worries for you.
If you're ready to sell successfully, we can help you. Contact us today, and let us know what your sales situation is for your home.