Most of the time, real estate transactions happen between individual buyers and sellers and documentation must be signed in person in front of a real estate lawyer. However, some circumstances, an individual is not availabe in person to sign the required closing documentation. They may be able to transfer their legal rights to transact to someone else. To be able to do this, one should execute a power of attorney (POA) to a representative. Thus, the representative will have the legal authority to act on one's behalf.
Reasons To Consider Assigning POA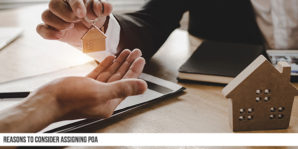 Dealing with real estate matters is a huge responsibility. It involves a complex process that requires attention. However, not everyone can watch over or perform each task. If you think you can relate to any of the following reasons, you might want to consider POA.
POA provides convenience. There are times when the seller or buyer of a property cannot attend to the transactions personally as they are out of town or the country due to work or an extended vacation. . If you are busy with your job, business, or something else, granting a POA for the real estate transaction can help you. The transcation can complete without the inconvenience and cost of returning to the property location.
You are always on-the-go. For example, your job requires you to travel frequently. It will hard for you to manage your property. If you are also expecting to be out of town when you have to sign documents, you can use a POA.
People who live far away from a property can also assign POA. It may be more practical for you to appoint someone to act as an agent instead of traveling to and from the area multiple times. Not only will it save you money, but it will also save time.
POA can also serve as protection. Some individuals can become incapacitated, and this may happen unexpectedly. You can prepare for cases of unexpected absence and incapacity due to accidents or serious illness. You can also have one in case you are expecting to undergo routine surgery, which may lead to health problems.
Power of Attorney in Alberta
Property transactions can be complicated and more so where a Power of Attorney is involved. Granting POA to a trustworthy and knowledgeable representative can be advantageous. However, keep in mind that if you are using a POA in Alberta for land transactions there are many legal requirements that must be met , as stated in the Land Titles Act.
All execution requirements must be complied with.
An original documents must be presented for registration.
An attorney under the POA may not be able to transfer the property to themselves.
POA can specify a position or office.
One should register an irrevocable POA.
A representative under POA cannot grant further POA unless the original authorizes it.
APOA can be time-limited.
Some instances may lead to rejection of a general POA.
If a power of attorney is conditional on an event, then evidence of the event is required. For example, if the POA only takes effect on 2 doctors finding that the individual is incapacitated, then the written statement of each doctor must be presented along with the power of attorney
Individuals who wish to use POA for purchasing a property and obtaining a mortgage may need the approval of the mortgage lender.
Before granting a POA, one should understand that this is a legal document. You should also remember that you will be liable for the actions that your representative will do on your behalf. That is why you should choose the right type of POA suitable for your needs. Hiring a lawyer will help you go through the process.