Property transactions can be complicated. It involves paperwork and legal documents. That is why you need a real estate lawyer. Whether you are selling your property or buying a new home, a property lawyer can help.
Reasons to Hire A Real Estate Lawyer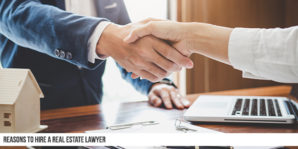 You need a lawyer to help you close your home purchase or sale transaction. An experienced property lawyer is well-versed on real estate law and understands the process in order to close your transaction as smoothly as possible.
There are many qualified lawyers around. However, everyone wants the best service they can get. So, it is only natural for one to look for the best real estate lawyer in Edmonton.
Only the Best
An effective way of finding the best real estate lawyer is to know what to look for. You can start by researching about the practicing lawyers in Edmonton. You may check their websites and reviews from previous clients to have an idea of what they can offer. From this information, you can come up with a shortlist of the ones you think suit your needs. Include in your research the following:
Are they real estate lawyers? Is real estate their only area of practice?
How long have they been practicing real estate law?
How long have they been working in Edmonton?
What are their credentials?
Do they have a good standing with their governing bodies?
When are they available to meet with you?
How much are your fees?
What services do the fees include?
After finding the answers, you will have an idea about what each of them can provide. You can start by weighing how you feel about each of them. To further help you with your decision, you can also ask them what their advantage is compared to the competition. Asking this can help you find out what to expect from the working relationship.
Working with a property lawyer comes with a lot of benefits. See this article to have an idea of what you can expect in working with a property lawyer. Some people even say that they play a crucial role in a property transaction. When choosing a property lawyer, you need to go for the one that you trust. Credibility and reliability are necessary to build a good relationship between the lawyer and the client. Weigh your options properly and choose the one that can provide you a good experience.