Title insurance protects an individual against any discoveries about a property in the future. These issues can be related to the title or not. It provides insurance coverage for problems due to legal defects. In case an individual stumbles upon problems, one can file for title insurance claims. However, it is essential to understand how this type of policy works before purchasing one. Check out your options and choose one that is fit for your needs.
When Can One File For Title Insurance Claims?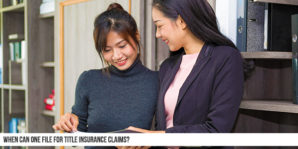 The insurance policy will include a detailed list of the covered risks. It allows one to prevent the occurrence of financial loss due to problems with the property. See this article for some claim examples for more information.
Fraudulent transactions
Municipal zoning-by-laws and building permit violations
Registered liens against the title of the property
Errors found in the surveys and public records
Unknown defects that prevent one from having ownership
Hiring a real estate lawyer can help you understand how title insurance can protect you. Your lawyer can also explain to you the extent and limitations, as well as the inclusions, so you can come up with informed decisions that are suitable for your needs.