Purchasing or selling a real estate in Alberta comes with responsibilities. It is not a simple signing of a contract. One should follow the process that the law has set. To be able to comply, some people choose to hire the services of a conveyance lawyer to deal with legal requirements.
The Process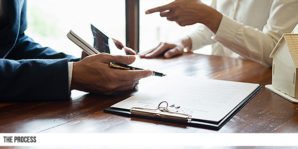 In real estate transactions, conveyancing refers to the preparation of documents for the legal transfer of a property. Thus, a conveyancer is someone who offers legal assistance to either a buyer or a seller. He or she will help ensure that the client meets all legal obligations and protect their rights during the transaction.
Their Role
In 2001, Western Law Societies came up with a protocol to respond to changes in conveyance and real estate marketplace. Under this, each provincial law society had to develop a protocol that corresponds to the needs of each province. Among these is the Alberta Conveyancing Advisory Committee, which came up with a local protocol prescribing enhanced standards in the practice of conveyancing. It also included the essential steps that a real estate lawyer should take and his or her duties to sellers or buyers.
Generally, a conveyancer in Alberta has two roles – drawing up of documents and arranging the settlement.
Afterdeciding to sell a property in Alberta, you should make sure that you prepare all the documents necessary to proceed with the transaction. A conveyancer will help you conduct a title search, analyze all registrations, obtain the or settle terms of discharge, conduct investigations, and prepare closing documents.
Your conveyance lawyer will also coordinate the settlement time with the conveyancer of the buyer. After the settlement, your conveyancer will get in touch with the real estate agent to inform them about the handing of keys.
If you are planning to buy a real estate in Alberta, consider getting a conveyancer lawyer. He or she will help prepare all transfer documents to make sure the seller rightfully and legally transfers the property to you. Your conveyancer will also ensure that all documents include the necessary details to meet local regulations the province has set.
The conveyancer will also help you coordinate and arrange the date of settlement. From the title search to the closing, your conveyancer will ensure that your rights are well-protected.
Whether you are a buyer or a seller of a real estate in Alberta, choosing to work with an experienced conveyancer lawyer will be a smart choice. This way, you can make sure that all documents are in proper order and that you will not have to deal with legal problems in the future.