Selling your home is a big endeavour, even when the economy is booming. Uncertainties, ups and downs of offers, the time involved, cleaning, moving – there is so much to deal with! To make the process easier on yourself, you should consider the following:
Work With A Real Estate Agent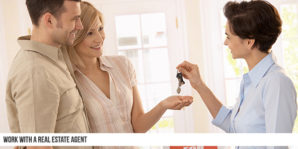 You don't have to work with a real estate agent, but you'll want to once you know what they can do for you. While real estate agents take a commission from the sale of your home, they can help you sell your home quickly and for the best price. They promote your home, find ways to attract potential buyers, and help make your home more presentable with staging and similar methods.
Depersonalize Your Home
It was your home, but now you want someone else to think of it as theirs, so start de-cluttering. Take down family photos, toys, posters, stickers, or other signs of habitation and put them in storage. You want people to go inside the house and see themselves living in it. They will have a harder time doing that when it's obvious that they're still in your home.
Be Flexible For Showings
People coming to see your home is an excellent way to increase your odds of a sale. If you accommodate agent requests to see the house, you increase your chances of someone deciding that your home is the right one for them. Try to be open about requests to see the property and plan for an open house on a busy weekend.
Work With A Lawyer For House Sale
A lawyer for house sale is a real estate lawyer familiar with property law. They're essential to reach out to when you're getting ready to sell your home. Real estate lawyers can help investigate your title, handle the payment of outstanding mortgage, and draft the documents that will formally transfer a property's title and ownership to a new buyer.
If you're thinking of selling your home, reach out to an experienced real estate lawyer to get started on the process.